Product Description
We specialize in the chains made to customers' drawings and specification. Our advantage is reliable quality, competitive price, prompt delivery and good service.
Standard products include various transmission and conveyor chains, like Roller Chain, double pitch Conveyor Chain, Hollow Pin Chain, Leaf Chain, Table Top Chain, Side Bow Chain, Lumber Chain, Agriculture Chain, Silent Chain, PIV Chain, Stainless Steel Chain, Nickel/ Zinc plated Chain, Dacromet Chain, Engineering Chain, Steel Pintle Chain, Welded steel chain, Forged chain, Malleable Iron chain, and many other types. Different kinds of attachment are available.
Product Description
Specifications:
1) Attachments on 1 side
2) Attachments on inner plates
3) Attachments on outer plates
4) Attachments on both sides
5) Straight attachments
6) Crank attachments
7) Pin attachments
8) Other special attachments
Transmission chain is famous for its high strength and continuous antifatigue; The chain dimensions fully meet the standards of ANSI and BS.
According to varied working conditions, it may choose the chain with different coating treatment, such as zinc plating, nickel plating, chromeplating and dacromet plating ec
Product Description
25-1 to 240-1
25-2 to 240-2
25-3 to 240-3
04BB-1 to 72B-1
04B-2 to 72B-2
04B-3 to 72B-3
We supply varied kinds of roller chains, conveyor chains, transmission chains and agricultural chains etc. According drawings.
Features:
1) A series chains:
A) Simplex: 25-1 – 240-1
B) Duplex: 25-2 – 240-2
C) Triplex: 25-3 – 240-3
2) B series chains:
A) Simplex: 04B-1 – 72B-1
B) Duplex: 05B-2 – 72B-2
C) Triplex: 05B-3 – 72B-3
3) Materials: Stainless steel or carbon steel
4) Other chains available: Heavy-duty series roller chains, cottered type short pitch precision roller chains (A series), heavy duty series cottered type roller chains, other simplex roller chains, zinc plated chains, dacromet plated chains, nickel plated chains, anti-side bow chains, side bow chains for pushing windows, side bow chains, side bow chains, self-lubrication roller chains, silent chains, self-tooth forming chains (P. I. V. Chains), heavy-duty cranked-link transmission chains, steel chains for sewage disposal, oil field chains, coupling chains, motorcycle chains, O-ring motorcycle chains, engine mechanism chain (timing chains), double pitch transmission chains and double pitch transmission chain attachments.
| | |
| --- | --- |
| Standard or Nonstandard: | Nonstandard |
| Application: | Textile Machinery, Garment Machinery, Conveyer Equipment, Packaging Machinery, Electric Cars, Motorcycle, Food Machinery, Marine, Mining Equipment, Agricultural Machinery, Car, Industry |
| Surface Treatment: | Oil Blooming |
| Structure: | Leaf Chain |
| Material: | Carbon Steel |
| Type: | Short Pitch Chain |
Customization:

Available

|

Customized Request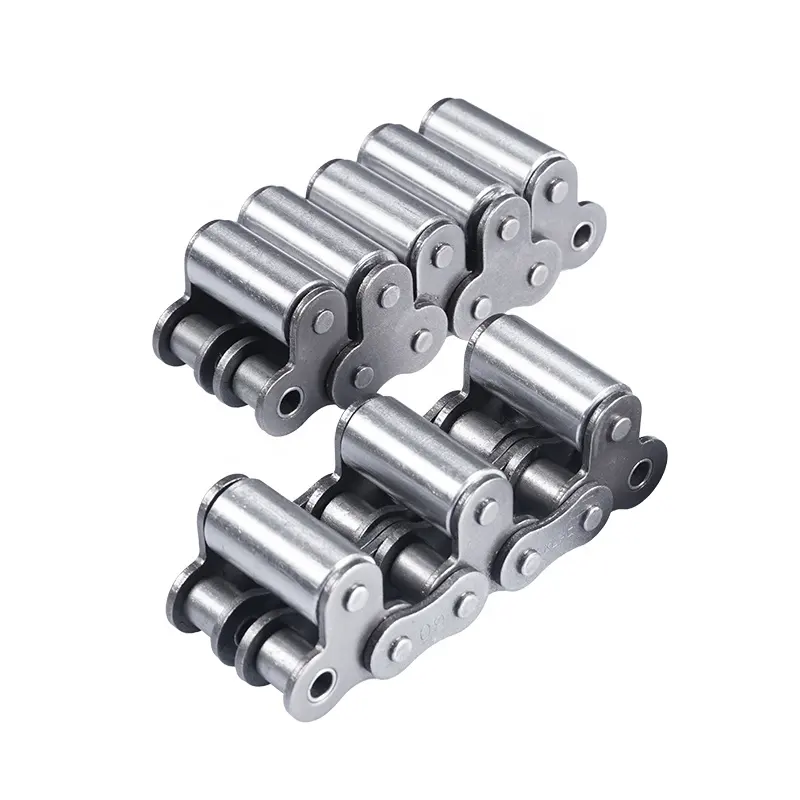 What are the advantages of using a silent chain over a traditional mechanical chain?
Silent chains, also known as inverted-tooth chains or silent synchronous chains, offer several advantages over traditional mechanical chains. Here are some key benefits:
Reduced noise: Silent chains are designed to operate quietly, hence the name. The unique tooth profile and precise engagement between the chain and sprockets minimize noise and vibration, making them ideal for applications where noise reduction is important.
Smooth operation: Silent chains provide smooth and precise power transmission due to their accurate tooth engagement. This results in improved performance and reduced wear on components, leading to longer chain life and enhanced system reliability.
High-speed capability: Silent chains can operate at high speeds without compromising their performance. Their design allows for efficient power transmission even at elevated rotational speeds, making them suitable for applications that require fast and precise motion.
Excellent load-carrying capacity: Silent chains are capable of handling high loads and transmit power effectively. The robust construction and tooth engagement design enable them to withstand heavy loads and provide reliable power transmission in demanding industrial applications.
Backlash-free operation: Silent chains have minimal or no backlash, which means they offer precise and accurate motion control. This is particularly beneficial in applications where precise positioning or synchronization is required, such as robotics, automation, or machine tools.
Low maintenance: Silent chains typically require minimal maintenance due to their durable construction and precise tooth engagement. They are designed to resist stretching and elongation, resulting in longer intervals between tensioning and adjustment.
Wide range of applications: Silent chains are versatile and find applications in various industries, including automotive, industrial machinery, robotics, printing, and packaging. They are suitable for both power transmission and motion control applications.
Overall, the advantages of using a silent chain, such as reduced noise, smooth operation, high-speed capability, excellent load-carrying capacity, and low maintenance, make them a preferred choice in many industrial applications where precise and reliable power transmission is required.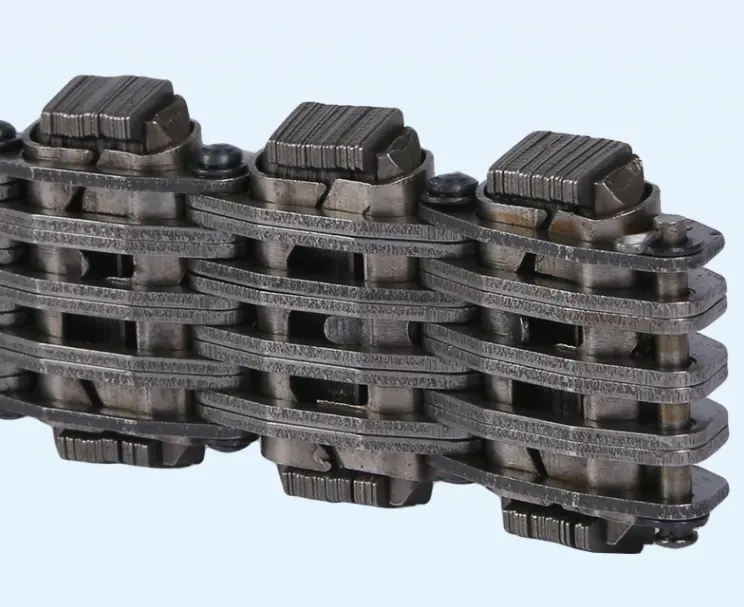 How to calculate the required length of a mechanical chain?
Calculating the required length of a mechanical chain involves considering the distance between the sprockets and the required tension in the chain. Here's a detailed explanation of the process:
Identify the Sprocket Centers: Measure the center-to-center distance between the two sprockets where the chain will be installed. This is the primary factor that determines the chain length.
Account for Sprocket Sizes: Take into account the sizes of the sprockets, specifically the number of teeth. Larger sprockets require longer chain lengths to maintain proper engagement and tension.
Calculate the Pitch Length: The pitch length is the theoretical length of the chain required to fit perfectly around the sprockets. It is calculated using the pitch diameter of the sprockets and the number of chain links required to span the sprocket centers. The formula to calculate pitch length is: Pitch Length = (Sprocket Centers / Pitch Circumference) + (Number of Links - 1) * (Chain Pitch).
Consider Tension Adjustment: Depending on the application, it may be necessary to adjust the tension in the chain. This can be accomplished by adding or removing chain links. It is important to maintain the proper tension to ensure optimal performance and prevent chain slippage.
Add Allowance for Chain Take-Up: In some applications, chain take-up devices or tensioners may be used to compensate for elongation and maintain tension over time. In such cases, it is recommended to add a small allowance to the calculated chain length to accommodate the take-up device's range of adjustment.
Check Manufacturer's Guidelines: Always refer to the manufacturer's guidelines, recommendations, and technical specifications for the specific type and model of chain being used. The manufacturer may provide additional factors or considerations for calculating the chain length based on their product's design and characteristics.
Accurate calculation of the required chain length is crucial to ensure proper fit, tension, and performance of the mechanical chain. If in doubt, consult with a knowledgeable engineer or contact the manufacturer for assistance in determining the correct chain length for your specific application.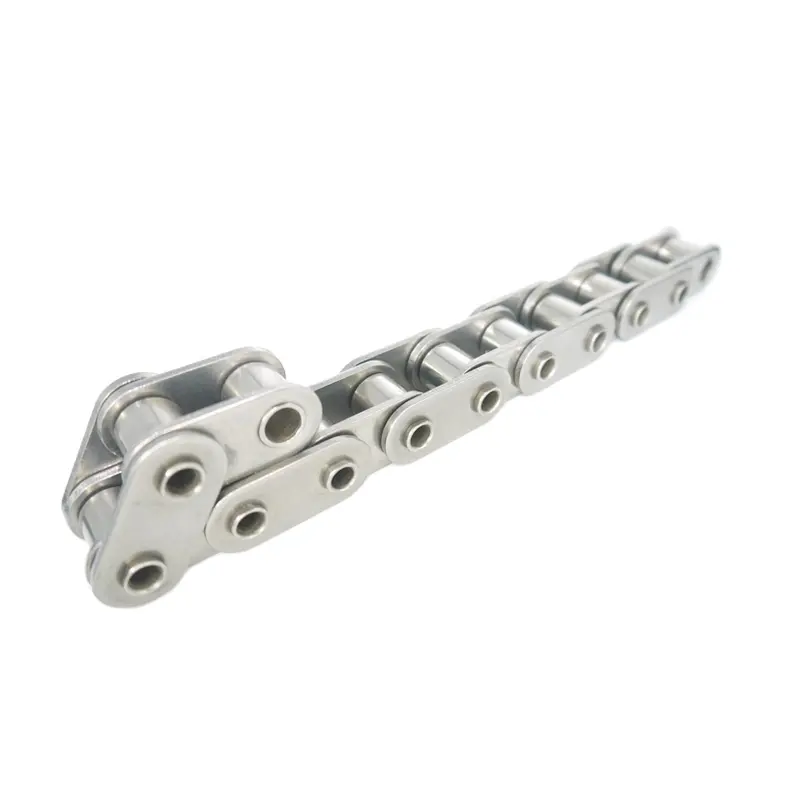 What are the different types of mechanical chains available?
There are several types of mechanical chains available, each designed for specific applications and requirements. Here is a detailed explanation:
Roller Chains: Roller chains are the most common type of mechanical chains. They consist of inner and outer plates, pins, bushings, and rollers. The rollers are free to rotate on the bushings, reducing friction and enabling smoother motion. Roller chains are known for their high load-carrying capacity and are widely used in industrial machinery, automotive systems, and power transmission applications.
Silent Chains: Silent chains, also known as inverted-tooth chains, feature tooth-shaped links with rounded edges that engage with matching sprockets. They offer a smooth and quiet operation, making them suitable for applications where noise reduction is desired, such as timing drives in engines, power tools, and office equipment.
Leaf Chains: Leaf chains consist of interleaved link plates and pins. They are known for their high tensile strength and resistance to fatigue, making them suitable for heavy-duty applications such as forklifts, cranes, and construction machinery.
Double-Pitch Chains: Double-pitch chains have twice the pitch length of standard roller chains, resulting in larger gaps between the links. They are commonly used in applications where slower speeds and lighter loads are required, such as conveyor systems.
Engineered Chains: Engineered chains are designed for specific applications and operating conditions. They include specialty chains such as corrosion-resistant chains, high-temperature chains, food-grade chains, and chains designed for harsh environments. These chains are tailored to meet the unique requirements of industries such as food processing, automotive manufacturing, and chemical processing.
Drag Chains: Drag chains, also known as cable carriers or energy chains, are used to manage and protect cables, hoses, and other fluid or electrical lines in moving applications. They provide a flexible and enclosed pathway for these lines, ensuring safe and reliable operation in machinery such as robotics, automated equipment, and machine tools.
Timing Chains: Timing chains are designed specifically for synchronizing the movement of engine components in internal combustion engines. They have precise tooth profiles that engage with corresponding teeth on the sprockets, ensuring accurate valve timing and engine performance.
Each type of mechanical chain has its unique design, construction, and characteristics suited for specific applications. When selecting a mechanical chain, factors such as load capacity, operating conditions, speed, and environmental factors should be considered to ensure optimal performance and longevity.
It is important to follow the manufacturer's recommendations regarding installation, lubrication, and maintenance to ensure the proper functioning and extended service life of the mechanical chain. Regular inspection, lubrication, and tension adjustment, if necessary, are essential for maintaining optimal performance and minimizing wear.
In summary, the different types of mechanical chains available include roller chains, silent chains, leaf chains, double-pitch chains, engineered chains, drag chains, and timing chains. Each type is designed to fulfill specific requirements in terms of load capacity, noise reduction, corrosion resistance, precision timing, or cable management. Choosing the right type of mechanical chain for a particular application is crucial for ensuring efficient power transmission, reliable operation, and extended chain life.



editor by CX 2023-09-19