Product Description
AS/NZS 4344 G70 Transport Chain & Fittings & Load Binders – G70 Chain CZPT Rigging Supplier
Standard: Ordinary mild steel link chain
USA standard link chain
Japan standard link chain
Korea standard link chain
German standard link chain
DIN5685 A/C short/ long chain, DIN766, 763, 764
Short link chain, medium link chain, Long link chain
Contorted chain, Knotwork chain, single/double buckle chain
High tensile chain, transport chain
GRADE: G30, 43, 50, 80.
Our products include,
1. Rigging hardware (shackle, turnbuckle, eye bolt & nuts, carbine hook & snap hook, quick links, hooks, swivel & rings)
2. CZPT & G100 rigging(G80 & G100 chain sling, g100 alloy fittings, CZPT alloy hooks, CZPT alloy links & rings, g80&g100 alloy chain, CZPT alloy master link, CZPT alloy swivels, bolt& nuts)
3. Synthetic lifting sling & harness(Webbing sling, webbing sling endless type, round sling, webbing net, safety harness & safety belt)
4. Cargo control & Transport products (ratchet tie down, ratchet buckle & end fittings, cargo control product, G70 chain & fittings, load binder, bungee cords & plastic straps, cargo bar & jack bars, shoring bars, cargo lock, plank & decking beam)
5. Chains And Accessories
6. Stainless steel rigging (stainless steel shackles, stainless steel turnbuckles, stainless steel wire rope thimbles, stainless steel wire rope clips, stainless steel hooks, stainless steel swivels, stainless steel rings, stainless steel rings, stainless steel bolts & nuts, stainless steel chains, stainless steel wire rope)
7. Manual hoist & lifting equipments(chain hoist, lever hoist, electric chain hoist, electric trolley, electric wire rope hoist, electric winch, wire rope pulling hoist, push & geared travel trolley, beam clamp, lifting clamp, trolley clamp, snatch block, permanent magnetic lifter, crane scale)
8. Marine hardware (anchor, anchor chain, accessories, marine rope)
 
Item No.
Nominal Size
WLL
Weight
d x t (mm)
(kg)
(kg/m)
YF8AC04
4 x 12
500
0.35
YF8AC06
 6 X 18
1120
0.8
YF8AC08
 8 X 24
2000
1.4
YF8AC10
10×30
3150
2.2
YF8AC13
13×39
5300
3.8
YF8AC16
16×48
8000
5.7
YF8AC20
20×60
12500
8.6
YF8AC22
22×66
15000
10.2
YF8AC26
26×78
21200
14.87
YF8AC32
32×96
31500
22.29
Features
Company Information 
HangZhou CZPT Rigging Co., Ltd. is located in HangZhou, China. For many years supplies a range of industrial products that covers lifting, lashing, slings, rigging, marine, mining, towing, transportation, construction, fishing and security applications…We provide not only high quality goods but also more additional benefits for our clients and partners.
With advanced production equipment, superb manufacturing process, strict management and with good quality product, we have gotten the certificate of ISO9001, CE, GS.
Under our business ideas "Quality first, Customer first", our goods are sold better and better. Now we are exporting more than 120 countries and areas all over the world. Our annual output is more than 100 million US DOLLAR.
Facing the market, our company will rely on a strong unity, forge ahead with determination and a leadership and workforce to meet the challenge, in fierce competition in the market ahead waves. YANFEI will be your best business partner.
 
What We Have 
· China Leading Rigging Hardware And Producing Technology
· Big Production Ability
· Fast Delivery
· Super High Quality
· Competitive Price
· Ten Years' Export Experience
· Excellent Sale and After-sale Service
· OEM Available
 
FAQ
1.Can I be your agent?
Yes, welcome to deep cooperation. We have big promotion of CZPT brand in the market now. For the details please contact with our overseas manager. 
 2.Is OEM available?
Yes, OEM is available. We have professional designer to help your brand promotion. 
3.Is the sample available?
Yes, samples are available for you to test the quality.
4.Are the products tested before shipping?
Yes, all of our products was qualified before shipping.
5.What's your quality guarantee?
We have different kinds of products which can meet different quality standard.
YANFEI QC department will test products before shipping. We have 100% quality guarantee to customers. We will be responsible for any quality problem. 
6.What's benefit will you bring?
Your client satisfied on the quality.
Your client continued orders.
Your can get good reputation from your market and obtain more orders.
YANFEI super high quality products will bring you success business.
CONTACT
| | |
| --- | --- |
| Usage: | Transmission Chain, Drag Chain, Conveyor Chain, Dedicated Special Chain, Transportation Chain, Transmission Chain |
| Material: | Alloy |
| Surface Treatment: | Electroplating |
| Feature: | Heat Resistant |
| Chain Size: | 1/2"*11/128" |
| Structure: | Welded Chain |
Samples:

US$ 100/Piece

1 Piece(Min.Order)

|
Request Sample
Customization:

Available

|

Customized Request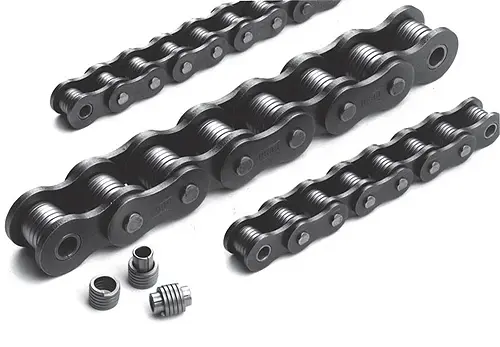 Types of roller chains and their applications
There are many factors that can cause premature wear of the roller chain. They include friction, external shocks, and lack of lubrication or adjustment. Here are some tips to help you prevent premature chain wear. Read on to learn more about the different types of roller chains and their applications. You'll be surprised how quickly the roller chain wears out! Below we have listed some of the most common causes of premature roller chain wear.
Double strand heavy-duty roller chain
If your application requires a heavy-duty chain, a double-strand steel roller chain is an excellent choice. Double-strand steel roller chains are manufactured to reduce stress fatigue and stretch, making them ideal for industrial and logging equipment. This type of chain is also heat-treated and shot-peened for excellent fatigue resistance and strength. Listed below are some of the advantages of double-strand heavy-duty roller chains.
When comparing single-strand and double-strand heavy-duty roller chains, double-strand steel roller chains are generally better. They have twice as many side plates and a working load close to that of a twin-strand steel roller chain. Unlike single-strand steel roller chains, double-strand roller chains are not interchangeable with standard double-sprockets. They use sprockets specially made for double chains.
Double strand chains are particularly strong, resistant to rust and corrosion, and ideal for high-stress applications. They are commonly used in conveyor systems, paper mill equipment, ditches, lifts, seed drills, and various hoisting machinery. They are also used in the wastewater and food processing industries. Chains of this type are used on conveyor lines, so they are an excellent choice for heavy machinery.
Nickel-plated chain
Nickel-plated roller chains are ideal for outdoor work, mildly corrosive environments, and applications requiring a good chain appearance. Nickel plating increases component hardness and improves wear resistance while ensuring that all surfaces are protected. The benefits of nickel-plated roller chains include increased durability, corrosion resistance, and a bright shine. Here are a few reasons to use such a chain. All chains are manufactured to the highest quality and safety standards.
Although slightly corrosive, nickel-plated roller chains are ideal for applications in high salt and high humidity environments. However, nickel plating can peel and chip, so nickel roller chains are not recommended for use in food processing or other environments exposed to corrosive substances. ANSI B29.1 standard chain can be nickel-plated and is ideal for a variety of applications including industrial garage doors and boat lifts.
CZPT USA Corp. is committed to being the premier agricultural and industrial chain supplier in the United States. By focusing on quality, they ensure their chains provide long life and unmatched wear resistance. If you're looking for a quality plated roller chain, consider choosing a chain from a leading manufacturer. If you need the durability and strength of a nickel roller chain, choose CZPT USA Corp. We manufacture the highest quality chains in the USA.
In addition to high strength, nickel-plated roller chains are also available in elastomer profiles. These types of chains can handle 1/2 to 3/4″ loads, depending on their pitch. They are also ideal for gentle traction on sensitive surfaces. The strength of these chains depends on the type of the main link used in the chain. Nickel-plated roller chains are available in a variety of sizes and are priced to suit a variety of applications.
Stainless steel chain
Stainless steel roller chains are ideal for industrial applications in two harsh environments. They have excellent chemical and corrosion resistance, as well as high strength. Chains are available in three grades to meet various operational needs. 304SS is suitable for food contact applications, while 316SS and 606SS offer excellent corrosion resistance. 600 series stainless steel provides excellent corrosion and wears resistance with precipitation hardened components.
In food processing, stainless steel chains are often exposed to extremely high temperatures and high concentrations of acids, alkalis, and water. They are also resistant to high concentrations of acid and chlorine. And their low magnetic permeability allows them to function properly in hygienic conditions. But stainless steel roller chains also have some disadvantages. Despite their excellent corrosion resistance, these chains are not recommended for use in food processing environments.
Compared to carbon steel, stainless steel roller chains are softer and hold longer. This means it may wear out faster. Since stainless steel is not heat-treated, its surface hardness is different from carbon steel. It retains heat for longer, reducing its tensile strength and extending its lifespan. Nonetheless, stainless steel roller chains are ideal for a variety of industrial applications.
The stainless steel roller chain is made of high-quality material. For example, the Premier series stainless steel roller chains are manufactured in Japan using a special type of stainless steel shot peening process. They also feature a solid roller design that reduces side flex. The Premier range also features highly polished side panels and is available in 10′ boxes, 50′ reels, and 100′ reels. They can also be cut to length if necessary.
Accumulation conveyor
Roller chain accumulation conveyors are designed to transport loads up to 440 lbs or 200 kg. The accumulator chain is located on large idler rollers to ensure quiet operation and the minimum force required to hold the pallet. They are suitable for various applications and can be integrated into the entire processing system. These conveyor belts have T-slots on three sides of the profile frame for connecting brackets and sensors.
Sensors installed in the accumulation area detect objects on the conveyor line and send signals to the motors that power the accumulation area. The motor can be external or built into the drum itself. Other types of sensors use light, such as photosensors. Photoelectric sensors detect objects by emitting and receiving specific wavelengths of light. This option is cost-effective because the sensor rollers are located slightly above the surface of the conveyor line.
Roller chain accumulation conveyors can be constructed of steel or plastic rollers. It can be equipped with staggered or coaxial rollers. Safety cover prevents accidental insertion of fingers into the chain, improving operator safety. The safety cover is compatible with the chain type and required bend radius. These caps are made of plastic clips that fit permanently on the inner links of the chain. They do not interfere with conveyed goods or workpiece carriers.
There are two basic types of accumulation conveyors: free flow and accumulation. Free-flowing chains allow conveyed objects to slide directly onto the chain while stacking chains allow goods to slide under the chain. Accumulation chains are commonly used in the food and packaging industries and have rollers that support conveyed objects. The free-flowing conveyor system eliminates the risk of damaging objects, as the rollers in the accumulation conveyor are in direct contact with the bottom of the cargo.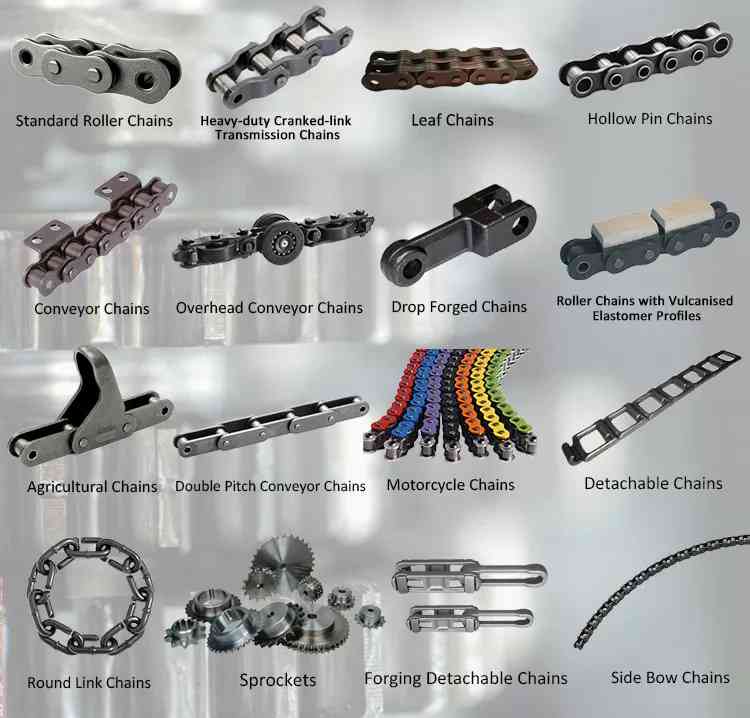 Custom attachment
Standard accessories for roller chains are available in a variety of styles. Typically, they can be assembled on pin or roller links. When referring to connecting chains, it is important to know how to refer to pitch and center-to-center spacing. The pitch of the roller chain should include inner and outer roller links and must alternate every three pitches. Additionally, you can order custom accessories for pin or roller linkages. Below are some examples of custom accessories for roller chains.
Stainless steel roller chains are one of the most well-known chains for this application. It has a stainless steel 304 finish to create curved and straight lugs. For even more flexibility, you can also request custom accessories such as chain plate holes and pins. For added safety, various accessories can be attached to the single-pitch roller chain. It can also be made with multiple pins or curved lugs.
HKK Chains is stocked with much stainless steel and carbon steel standard connecting chains. Most of the time, they can assemble a custom accessory chain in no time. For example, a single-pitch chain with two connecting holes is called a wide profile. Additionally, chains can be manufactured in a variety of materials, including carbon steel, stainless steel, Lambda, plastic, and Ultra WP. In addition, a wide range of unique accessories is available for special industries.



editor by CX 2023-05-17