Product Description
| | |
| --- | --- |
| Brand | COACE |
| Certificate | REACH; ROHS;TSCA;SVHC;ISO9001;ISO14001;ISO45001 |
| Model | BP-5 |
| Name | Powder Form Chain Extender |
| Keywords | / |
| Color | White |
| Appearance | Powder |
| CAS NO. | N/A |
| HS CODE | 395710000 |
| MFR | / |
| Type | Plastic auxiliary agent |
| Usage | Chain extender for biodegradable polymer, like PBAT, PLA |
| Package  | 25kg/bag;  |
| Samples | Free samples offered |
| Production lead time | 10 working days after payment |
| Lording port | HangZhou |
Packaging & Delivery
Fast automatic packing line and modern logistic service team ensure the goods arrive on time.
Handling & Storage
For information on appropriate Handling & Storage of this polymeric resin, please refer to the material Safety Data Sheet.
A material Safety Data Sheet, Technique Data Sheet, and/or more detailed information on extrusion processing and/or compounding of this polymeric resin for some other applications are available from your COACE Chemical Company Limited service representative.
COACE Products Type
COACE's R&D and manufactures focus on chemical modified high molecular weight polymers and some inorganic small molecule chemical additives. Most of her products are to be used as compatibilizer for plastic blending compounds, coupling agent for plastic compsite materials, hot-melt ahesive materials, adhesion promoters, and other application.
Why Choose Us
1. Experienced sales and after-sales teams on thermoplastic resin compounds area and its relatives
2. Powerful ability of technological development
3. Advanced production ficilities and technology
4. Strict control over quality in the full-chain
5. Overall modern logistics service
6. Access to ISO 9001, ISO 14001 , ISO 45001 certifications
About Us
Quality & Innovation & Globalization, the slogan of COACE Chemical Co., Ltd. As it said, stability and precision become the characters of each member in COACE.
Since 2009, born in the southeast of China, HangZhou Economic Zone, COACE started her journey in the plastic industry.
With high intellectuals' team and advanced facilities, COACE focuses on the R&D and producing of the plastic additives. The factory owns 12,000 square-meter area and is equipped with 8 modern extruding-pellets systems production lines, which ensure the annual capacity of 10 thousand metric tons. The products cover compatibilizers, coupling agents, impact modifiers, and other functional additives.
As COACE's knockout products, the Polypropylene and glass fiber compatibilizers, Polyamide tougheners, and plastic alloy compatibilizers help the company to predominate the national market in a short time, and developed the overseas market then. From Northeast Asian economic belt to North America, COACE's products got the high evaluation from the markets.
In the past ten-year, COACE brought values to her customers, and in the following decades, even centuries, COACE aims to create values for you. COACE, material boosting performance.
| | |
| --- | --- |
| CAS No.: | N/a |
| Formula: | N/a |
| EINECS: | N/a |
| Certification: | REACH |
| Environmental Protection: | Yes |
| Color: | White |
| | |
| --- | --- |
| Samples: | |
Customization:

Available

|

Customized Request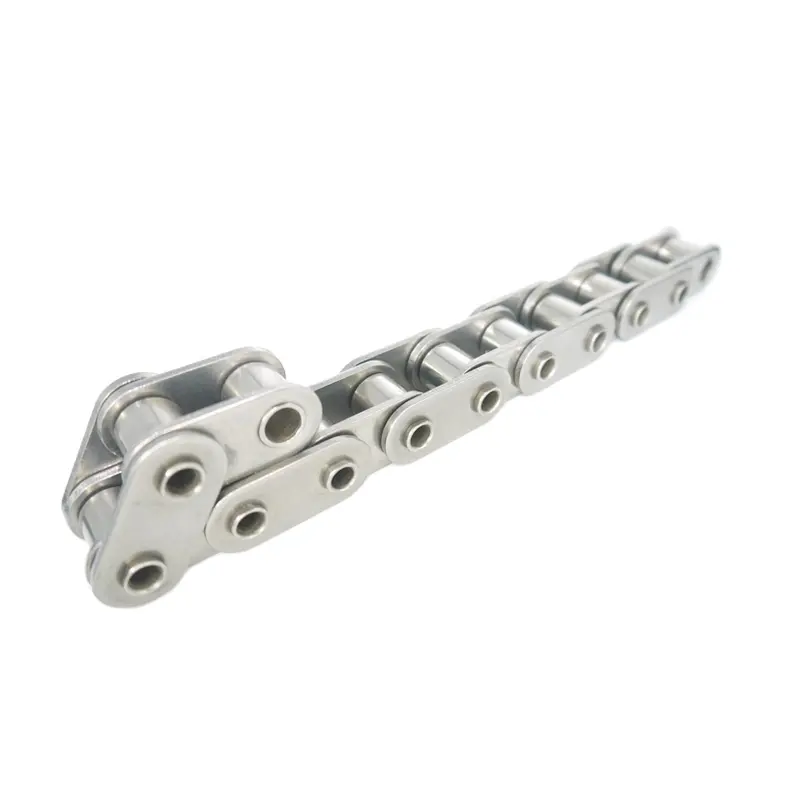 What are the benefits of using stainless steel mechanical chains?
Stainless steel mechanical chains offer several advantages in various applications where corrosion resistance and durability are essential. Here are some of the key benefits:
Corrosion resistance: Stainless steel chains are highly resistant to corrosion, making them ideal for applications exposed to moisture, chemicals, or harsh environments. They can withstand rust, oxidation, and chemical reactions better than standard steel chains, ensuring longer service life and reliable performance.
High strength: Stainless steel chains retain their strength even in challenging conditions. They have excellent tensile strength, allowing them to withstand heavy loads and high-stress environments without compromising performance or safety.
Hygienic properties: Stainless steel chains are easy to clean and maintain, making them suitable for industries with strict hygiene requirements, such as food processing, pharmaceuticals, and medical devices. The smooth surface of stainless steel prevents the accumulation of contaminants and facilitates thorough cleaning, reducing the risk of contamination.
Temperature resistance: Stainless steel chains exhibit good resistance to high and low temperatures, making them suitable for applications that involve extreme temperature variations. They can maintain their mechanical properties and performance even in environments with elevated or sub-zero temperatures.
Longevity and durability: Stainless steel chains have a longer lifespan compared to standard steel chains due to their corrosion resistance and robust construction. They require less frequent replacement, resulting in cost savings and reduced downtime.
Versatility: Stainless steel chains are available in various configurations and sizes to accommodate different application requirements. They can be found in a wide range of industries, including food processing, chemical processing, marine, pharmaceuticals, and more.
Aesthetic appeal: Stainless steel chains have a visually appealing appearance and are often chosen for applications where aesthetics are important, such as architectural designs or decorative installations.
Overall, the use of stainless steel mechanical chains provides enhanced performance, longevity, and resistance to corrosion, making them a reliable choice in demanding environments where traditional chains may not withstand the conditions. It is important to select the appropriate grade of stainless steel based on the specific application requirements to fully leverage these benefits.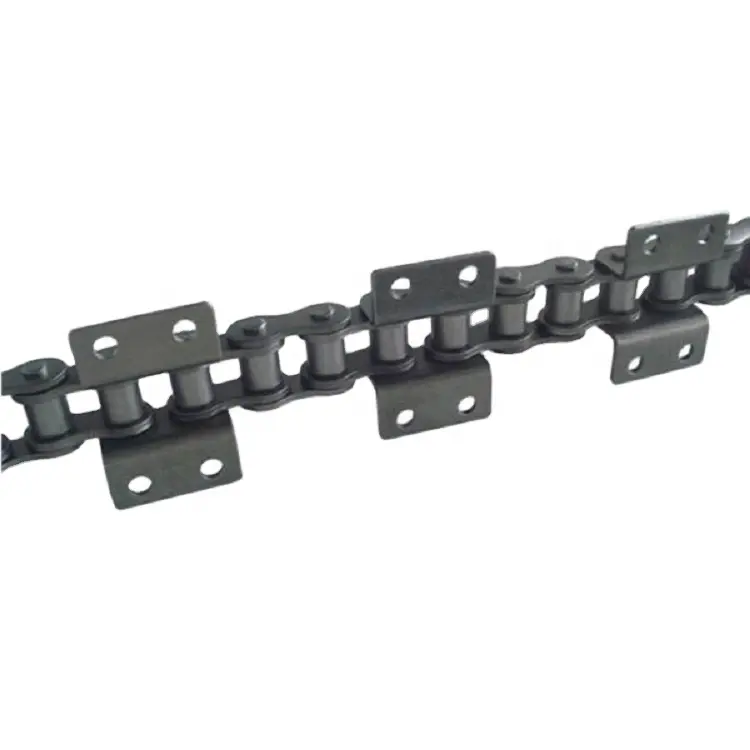 How does a mechanical chain compare to other types of power transmission systems?
When comparing mechanical chains to other types of power transmission systems, it's important to consider factors such as efficiency, load capacity, speed, cost, maintenance requirements, and application suitability. Here is a detailed comparison:
| Aspect | Mechanical Chain | Comparison |
| --- | --- | --- |
| Efficiency | A properly lubricated mechanical chain can offer high efficiency, typically ranging from 90-98%. However, efficiency can decrease with wear and improper maintenance. | Efficient power transfer, but can be affected by wear and maintenance. |
| Load Capacity | Mechanical chains are known for their high load capacity and ability to handle heavy loads and high torque requirements. | Excellent load-carrying capabilities. |
| Speed | Mechanical chains can operate at high speeds, but their performance may be limited compared to other systems like gears or belts in certain high-speed applications. | Suitable for a wide range of speeds but may have limitations in very high-speed applications. |
| Cost | Mechanical chains are generally cost-effective compared to some other power transmission systems, especially for heavy-duty applications. | Relatively cost-effective. |
| Maintenance | Mechanical chains require regular lubrication and periodic maintenance to ensure optimal performance and longevity. They may also require tension adjustment and occasional replacement due to wear. | Moderate maintenance requirements. |
| Application Suitability | Mechanical chains are widely used in various industries and applications, including automotive, industrial machinery, agricultural equipment, and more. They are suitable for transmitting power in straight or slightly curved paths. | Versatile and suitable for a wide range of applications. |
In summary, mechanical chains offer high load capacity, efficiency, and versatility, making them suitable for many industrial applications. However, they require regular maintenance and may have limitations in extremely high-speed applications. The choice between mechanical chains and other power transmission systems depends on specific application requirements, such as load capacity, speed, cost, and environmental conditions.
It is always recommended to consult with industry experts or engineers to determine the most suitable power transmission system for a particular application based on its specific requirements.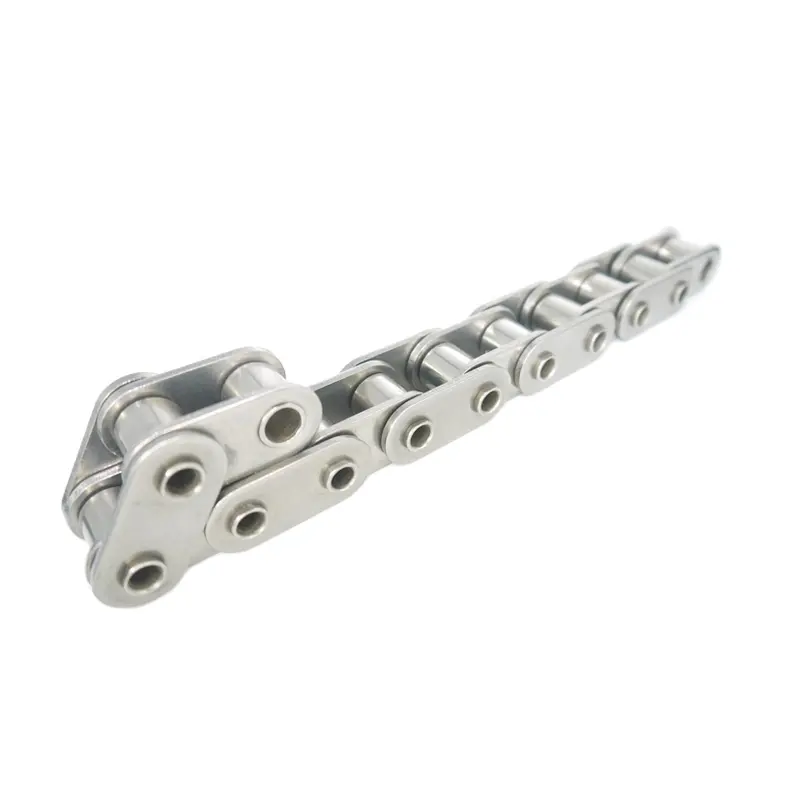 What lubrication is recommended for a mechanical chain?
Lubrication plays a critical role in maintaining the performance and lifespan of a mechanical chain. The type and application of lubrication depend on various factors such as the chain material, operating conditions, and the manufacturer's recommendations. Here are some commonly used lubrication options for mechanical chains:
Chain Oil: Chain oils specifically designed for mechanical chains offer excellent lubrication and protection against wear. These oils have good adhesion properties, allowing them to stay in place and provide continuous lubrication even under high loads and speeds.
Grease: Greases formulated for chain applications can provide excellent lubrication and protection. They are suitable for chains operating at lower speeds and under moderate loads. Grease provides better sealing and can reduce the risk of dirt and contaminants entering the chain system.
Dry Film Lubricant: Dry film lubricants, such as PTFE or molybdenum disulfide coatings, are applied as a thin film onto the chain surfaces. They offer good lubrication and reduce friction without attracting dirt and debris. Dry film lubricants are often used in applications where oil or grease may attract contaminants.
Specialty Lubricants: Depending on the specific application and operating conditions, there are specialty lubricants available, such as high-temperature lubricants, food-grade lubricants for food processing applications, or extreme pressure lubricants for heavy-duty and high-load chains.
It's important to follow the manufacturer's recommendations for lubrication type, frequency, and application method. They can provide specific guidelines based on the chain design and operating conditions. Regularly monitoring the lubrication levels and reapplying lubricant as necessary will help ensure optimal chain performance and longevity.
It's worth noting that some chains may come pre-lubricated from the manufacturer, while others may require initial lubrication before use. Consult the manufacturer's documentation or contact their technical support for specific lubrication requirements for your mechanical chain.



editor by CX 2023-08-11