Product Description
Studlink & Studless Marine Ship Anchor Chain
PRODUCT DETAILS
Service: Your inquiry will be replied within 12 hours.
Product name:
Studlink & Studless Marine Ship Anchor Chain
Place of origin: ZheJiang , China.
Brand: LS
Material: Carton steel ( Iron, Alloy Steel 20Mn2, 25MNV).
Size:16mm-135mm
Surface: BiHangZhou plated (or Hot Dip Galivanized,Polished, Self-color).
Grade: U2,U3,R2,R3
Stock: There are emergency stocks for regular sizes.
Sample:The sample is free, the freight should on your Account before your first order.
Packing method:Nude Packing or Ton Bag.
Stud and studless link anchor chain  Size(6×3.6D) Proof Load  Weight
Diameter
Size
U1 stud link anchor chain
U2 stud link anchor chain
U3 stud link anchor chain
Weight
D(φ)
 
Outside length
Outside width
Proof load
Breaking load
Proof load
Breaking load
Proof load
Breaking load
27.5M
 
L
B
 
 
 
Inch
mm
mm
mm
KN
KN
KN
KN
KN
KN
KG
1/2
12.5
75
45
46
66
66
92
92
132
98
9/16
14
84
50.4
58
82
82
116
116
165
119
5/8
16
96
57.6
76
107
107
150
150
216
156
11/16
17.5
105
63
89
127
127
179
179
256
186
3/4
19
114
68.4
105
150
150
211
211
301
230
13/16
20.5
123
73.8
123
175
175
244
244
349
260
7/8
22
132
79.2
140
200
200
280
280
401
300
15/16
24
144
86.4
167
237
237
332
332
476
370
1-1/16
26
156
93.6
194
278
278
389
389
556
431
1-1/8
28
168
100.8
225
321
321
449
449
642
496
1-3/16
30
180
108
257
368
368
514
514
735
564
1-1/4
32
192
115.2
291
417
417
583
583
833
635
1-5/16
34
204
122.4
328
468
468
655
655
937
712
1-7/16
36
216
129.6
366
523
523
732
732
1050
800
1-1/2
38
228
136.8
406
581
581
812
812
1160
887
1-9/16
40
240
144
448
640
640
896
896
1280
1032
1-5/8
42
252
151.2
492
703
703
981
981
1400
1084
1-3/4
44
264
158.4
538
769
769
1080
1080
1540
1197
1-13/16
46
276
165.6
585
837
837
1170
1170
1680
1310
1-7/8
48
288
172.8
635
908
908
1270
1270
1810
1438
2
50
300
180
686
981
981
1370
1370
1960
1546
2-1/16
52
312
187.2
739
1060
1060
1480
1480
2110
1661
2-1/8
54
324
194.4
794
1140
1140
1590
1590
2270
1791
2-3/16
56
336
201.6
851
1220
1220
1710
1710
2430
1926
2-5/16
58
348
208.8
909
1290
1290
1810
1810
2600
2086
2-3/8
60
360
216
969
1380
1380
1940
1940
2770
2249
2-7/16
62
372
223.2
1030
1470
1470
2060
2060
2940
2361
2-1/2
64
384
230.4
1100
1560
1560
2190
2190
3130
2516
2-9/16
66
396
237.6
1160
1660
1660
2310
2310
3300
2676
2-11/16
68
408
244.8
1230
1750
1750
2450
2450
3500
2885
2-3/4
70
420
252
1290
1840
1840
2580
2580
3690
 
Payment term
30% advanced by T/T, the balance should be paid after see the copy of the B/L; L/C at sig-ht; Western Union.
Delivery time:Usually within 15-30days according to your required size&quantity.
Using range
1.Marine chain 2.Fishing &boat chain;Mine chain;Cement lifting round chain.
Xihu (West Lake) Dis. always lead the new development of technologies, new products
And value-added services. Over the years, link chains have been created, applied,
And enable real growth forcustomers into newmarketplaces.
Link chains are widely used in various industries.
1. Decoration; Protection; Lifting; Traction etc.
2. Fishing &boat chain; Mine chain; Cement lifting round chain.
30% advanced by T/T, the balance should be paid after see the copy of the
B/L; L/C at sight; Western Union.
We have good relationship with clients around the world, we welcome your visiting.
We welcome your inquiry!
Studlink & Studless Marine Ship Anchor Chain
More Details Information,Please Feel Free Contact US.
 
| | |
| --- | --- |
| Application: | Boat |
| Standard: | ASTM, GB, DIN, ANSI, JIS, ISO |
| Customized: | Non-Customized |
| Surface Treatment: | Bitumen |
| Material: | Steel |
| Type: | Stud Chains |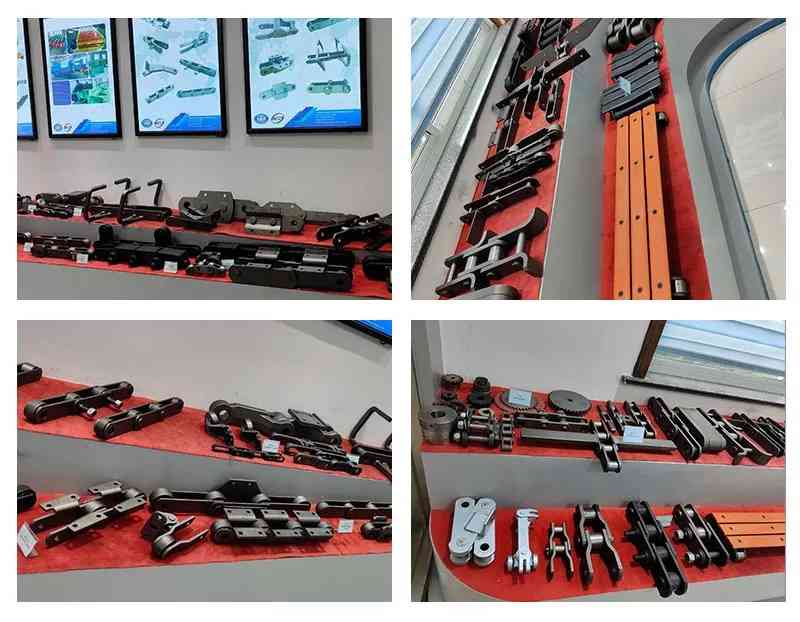 Different types of drive chains
Drive chains are an important part of many different types of machinery. In this article, we'll cover a variety of different types, from square links to engineered steel. From there, we'll discuss different types of chains, such as double and leaf chains. Let's take a closer look at each one. Once you know what kind of chain you're looking for, you can make a buying decision. If you're not sure where to start, read on to learn more about these types of chains, what to look for when choosing, and how to choose the right chain for your specific application.
Engineering Steel Chain
Engineering steel chains are widely used in conveyors, bucket elevators, tensioning links, transmission chains, etc., and have the characteristics of high strength, low friction, and good shock resistance. Early models of these chains were developed for difficult-to-convey applications. They were originally made of all-steel components with flanged rollers made of cast iron. They then increase in size, strength, and spacing in response to the heavy-duty requirements of the industry.
Today, these chains are used in a wide variety of applications, including tough oil drilling operations and forklifts. They offer excellent durability and high power transfer and are available in a variety of materials. They are also ideal for harsh environments such as harsh oil drilling. Their high-strength steel construction means they can handle harsh operating conditions. Their durability is an essential feature of any chain, and CZPT Chains offers a full line of engineered steel chains to meet your exact specifications.
A drive chain made of engineered steel consists of several components: links, pin joints, and sprockets. This allows them to carry heavy loads with minimal stretch. Due to its internal mechanical advantage, the chain runs around the sprockets with almost 100% efficiency. Also, the chain is made of special steel that can withstand certain conditions. They are available in different alloys and grades. If you have any questions, please feel free to contact us.
Roller chain wear is a major problem for conveyor and drive chains. In these cases, the rollers of the chain are more prone to wear than the bushings, so lubrication is essential. Many chains are designed to work with little or no lubrication. Finally, material selection is an important factor in the design of engineered steel conveyor chains. These factors will help ensure that the chain stays in good shape.
Conveyor Chains with Square Links
There are two basic types of conveyor chains. The first is the square chain, commonly used in cranes and hoists. It's cheap to manufacture but more prone to overload. The second is a chain that uses hook joints or detachable links. These are used for short-term power transmission and have a lubricating effect. Usually, they are made of malleable iron but can be more expensive.
Another type of chain is the removable steel chain. For moderate loads, this is an easy-to-install option. The closed end of the tab should face the sprocket. It is very important to maintain the alignment of the chain relative to the sprockets. The chain should be adjusted to suit the load before installation. It is important to keep the chain lubricated to prolong its life.
Steel chains offer a wider selection of materials and heat treatments. This chain is also more accurate than its counterpart. Steel bushing chains are less expensive but require more frequent lubrication. Steel roller chains are often used for long conveyor centers or high loads. However, lower friction requirements require lower strength chains. This means that chains with square links are a better choice for smaller conveyors. But this style has its drawbacks.
Bushing chains are made of steel and are an excellent alternative for small-scale applications. The pins are silent and prevent tooth damage. Bushed roller chains are also used to a certain extent as conveyor chains. However, the main advantage of the bushing roller chain is that it does not make any noise at all. Bushed roller chains are made of alloy steel and are suitable for very low-speed applications.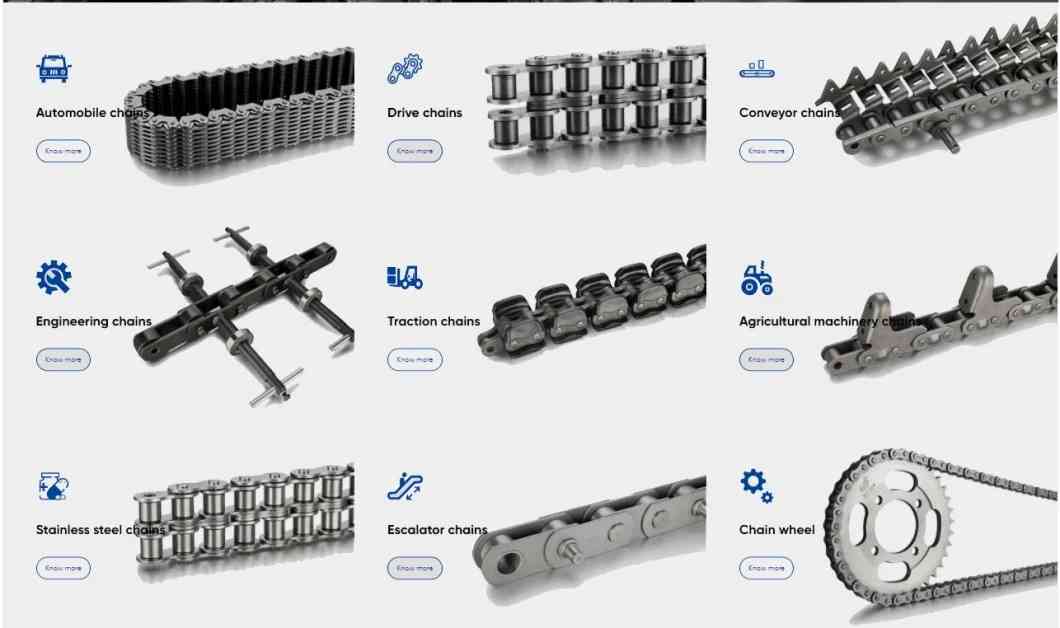 double chain
Double-strand roller chain, also known as a double-strand, consists of two rows of single-strand links. It has high impact strength, low weight, and a small form factor. Duplex roller chains are manufactured using CZPT technology, which uses solid rollers to improve sprocket tooth rotation and reduce shock loads. During the manufacturing process, the metal is heat-treated to increase strength and reduce corrosion.
A single chain is designed for a single sprocket, while a double chain consists of two identical chains connected side by side. Double chains are more durable than simple chains because double rollers contain roller bearings, pins, and other components. Simplex drive chains can handle high loads, while duplex drive chains are designed for medium-duty applications.
leaf chain
Blade chains are used in reciprocating devices such as forklifts. They are also used in machine tools for counterweight chains. Leaf chains come in a variety of lengths, usually with female or male ends. Leaf chains can be manufactured in even or odd pitches and are ideal for lifting and balancing. This article will introduce some key uses of leaf chains in drive chains. Additionally, we'll discuss how they are made and how they behave in applications.
Most drive chains today are made from leaf chains. These chains are designed to increase the strength of the chain. However, they are less expensive than other types of chains. You can also purchase specialized leaf chains for certain applications. CZPT Chain also offers custom leaf chains for your unique needs. Leaf chains are commonly used in forklifts, material handling, and lifting applications. They are usually made from high-quality components. The BL1688 Leaf Chain has 8 x 8 laces and is sold in 10-foot boxes or 25- to 100-foot reels. The leaf chain can be cut as needed.
When selecting a leaf chain for a specific application, consider the minimum tensile strength of the chain. The minimum breaking strength must be high enough to protect the worker or machine, but must also be legal for the type of machine. Most manufacturers publish this minimum strength requirement. To make the most durable leaf chain, design engineers must consider the ISO4347 standard when choosing the right leaf chain. Leaf chain manufacturers tend to exceed international standards by about 20%.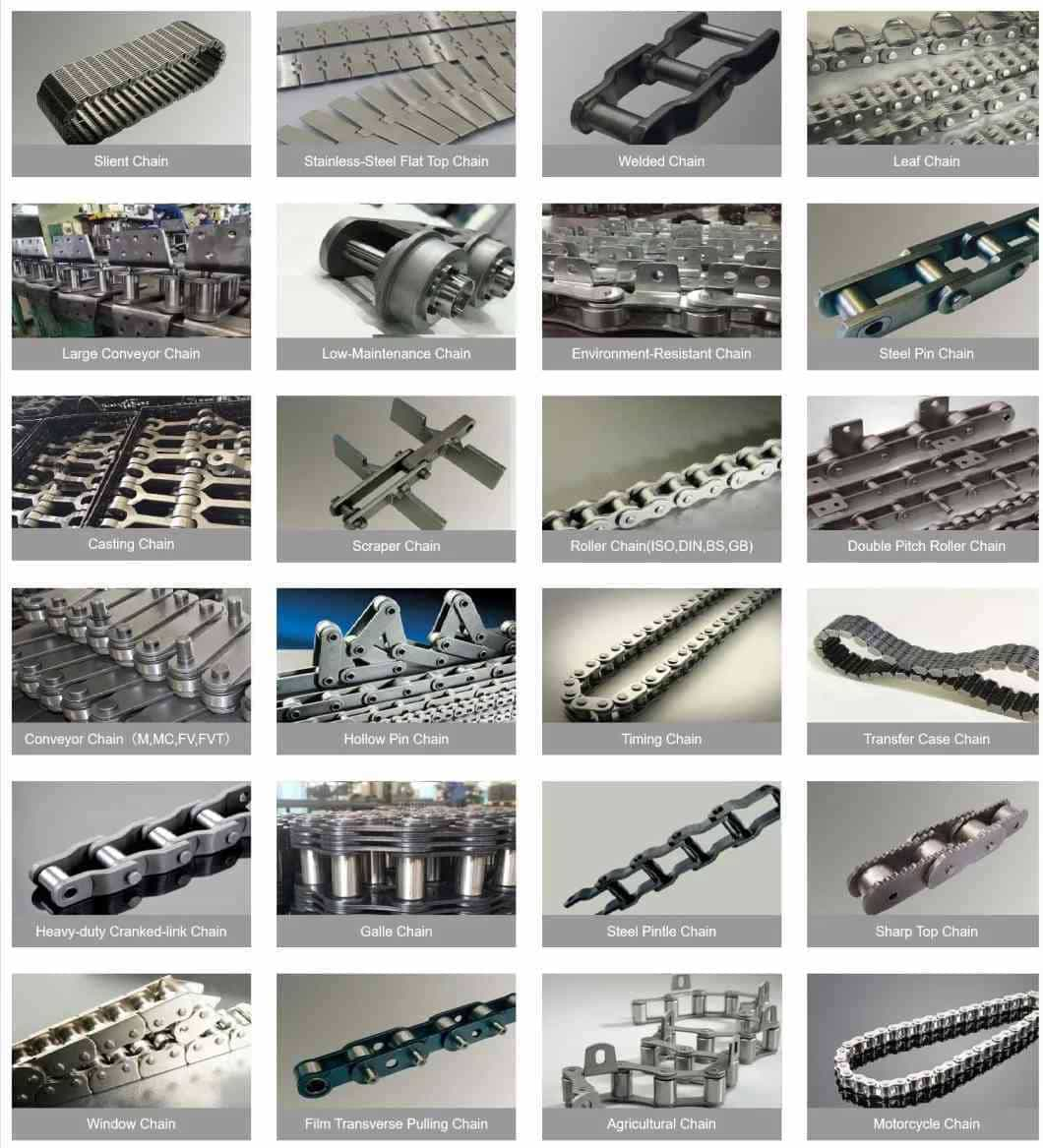 roller chain
Roller chains are made from a variety of materials. Some common materials include steel and stainless steel. The most suitable material depends on cost, environmental conditions, and horsepower transmission design. Chain manufacturers can optimize the material for the intended use. Depending on its size, spacing, and special construction techniques, it can be made lighter or heavier. This is an advantage for applications in noise-sensitive environments. Below are some examples of common uses for roller chains.
The wear of the components in a roller chain is an unavoidable part of its operation. The amount of elongation depends on factors such as lubrication, load, and the frequency of articulation between the pin and bushing. Manufacturing critical wear parts require careful attention to detail. Proper raw materials, manufacturing, and assembly are critical to product performance and longevity. If these components aren't of high quality, they won't last as long as the chain should.
The industry recommends measuring the wear elongation of the roller chain to determine when it needs to be replaced. Proper safety procedures must be used to measure chain tension. The tight span of the chain shall be measured by applying the measuring load specified by ANSI. A correctly measured roller chain is safe to use. For motorcycles, the chain is bigger and stronger. Often, toothed belts are replaced by shaft drives because they are less noisy and require less maintenance.
Tensile strength is the most commonly used measurement method for roller chains. This measurement represents the amount of load the chain can withstand before it breaks. Fatigue strength is another measure of durability. Fatigue strength measures how long a roller chain can withstand long-term use before failing. These two measurements are closely related and maybe the same or different. In addition to tensile strength, fatigue strength is a useful factor to consider when purchasing a chain.



editor by CX 2023-05-16