Product Description
Product Description

This is the BL series Leaf chain. The material of the chain is SS304, SS310, and SS316. They are used in Hoisting and
Another field. If you have special requirements, please offer drawings for us, and we will produce them as your ask.
HangZhou CHINAMFG Machinery Chain Transmission Co., Ltd is a professional manufacturer of roller chains. There are 2 main categories: Stainless steel chain and carbon steel chain. They have the characteristics of high strength, high wear resistance, and long life.
All the chain assembly technique indexes conform to the standards of ISO9001: 2008 and GB/T19001-2000idt.
We have established a nationwide sales network and the products have been sold to the countries and regions in Europe and America, Central and South Africa as well as South-east Asia, which are quite popular among customers.
Product Parameter
| | |
| --- | --- |
| Product Name | Leaf Chain |
| Pitch | 12.7mm-63.5mm |
| Standard | GB, ISO, ANSI, DIN |
| Model  | Lh0822-Lh1688, Bl422-Bl888, Lh2571-Lh4088, etc. |
| Material | Carbon steel, Alloy, Stainless Steel |
| Surface Treatment | Heat treatment/Sand-blasted/Shot-peening |
| Certifications | ISO9001:2015, GB/T19001-2016, ISO1400:2015 |
| Tensile Strength | High strength |
| Packaging | Plastic Bag+ Carton+Wooden Case |
| Application | Hotels, Garment Shops, Building Material Shops, etc |
Advantage
Related Products

DETAILS ABOUT CHINAMFG CHAIN 
Workshop
Certifications
Exhibition
Packaging Details & Shipping
FAQ
      
1. Are you a manufacturer or trade Company?
We are a factory founded in 1997 with a trade team for international service.
2. What terms of payment do you usually use?
T/T 30% deposit and 70% against document, Western Union, L/C at sight
3. What is your lead time for your goods?
Normally 35 days after confirmed order. 30 days could be available in the low season for some items (during May to July), and 45 days during the new year and hot season ( Jan to March).
4. Samples
For customers who need sample confirmation before ordering, please bear in mind that the following policy will be adopted:
1) All samples are free of charge with a maximum value not exceeding USD 100.
2) The courier cost for the first-time sample sending will be charged by the consignee. We will send the samples with freight to be collected. So please inform your account with FedEx, UPS, DHL, or TNT so that we can proceed promptly.
3) The first-time courier cost will be totally deducted from the contract value of the trial cooperation.
| | |
| --- | --- |
| Standard or Nonstandard: | Nonstandard |
| Application: | Textile Machinery, Garment Machinery, Conveyer Equipment, Packaging Machinery, Motorcycle, Food Machinery, Marine, Mining Equipment, Agricultural Machinery |
| Surface Treatment: | Polishing |
| Structure: | Leaf Chain |
| Material: | Stainless Steel |
| Type: | Leaf Chain |
Customization:

Available

|

Customized Request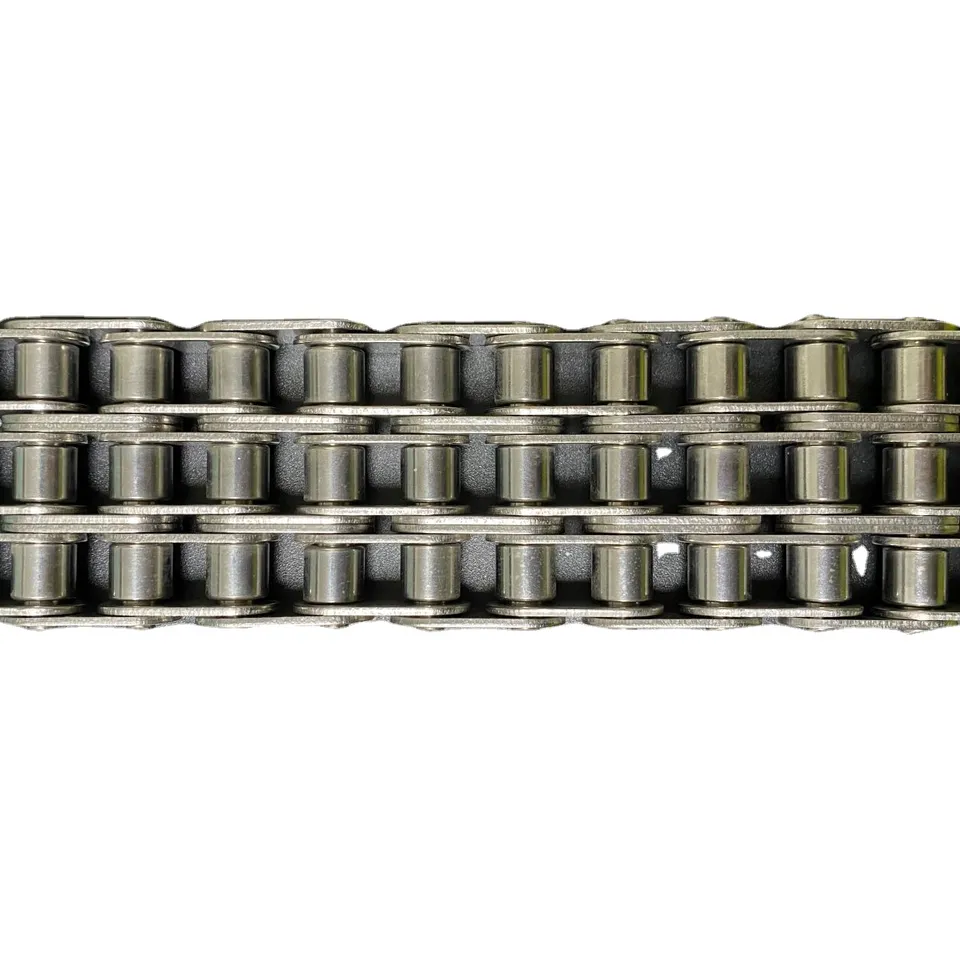 What are the future trends and advancements in mechanical chain technology?
The field of mechanical chain technology is continuously evolving, driven by the need for improved performance, efficiency, and durability. Here are some future trends and advancements to look out for:
Advanced Materials: The development of new materials with enhanced properties, such as higher strength, improved wear resistance, and superior corrosion resistance, will contribute to the advancement of mechanical chains. Materials like advanced alloys, composite materials, and coatings will be explored to meet the evolving demands of different industries.
Smart and Connected Chains: The integration of sensors and smart technologies within mechanical chains will enable real-time monitoring of chain performance, condition, and health. This data can be used for predictive maintenance, optimizing chain operation, and improving overall system efficiency.
Improved Lubrication Systems: Innovations in lubrication systems will focus on reducing friction, enhancing lubricant distribution, and extending the lubrication intervals. Self-lubricating chains or advanced lubrication techniques, such as micro-lubrication or dry lubrication, may become more prevalent, reducing the need for frequent lubrication maintenance.
Enhanced Design and Manufacturing Techniques: Advances in design software, simulation tools, and manufacturing processes will enable the development of more efficient and lightweight chain designs. Techniques like additive manufacturing (3D printing) may be employed to create complex and customized chain components.
Improved Wear and Fatigue Resistance: Research will focus on developing surface treatments, coatings, and heat treatments to enhance the wear and fatigue resistance of mechanical chains. This will result in longer service life and improved reliability, particularly in demanding applications.
Environmental Sustainability: As industries strive for more sustainable practices, there will be a greater emphasis on developing eco-friendly chain materials, lubricants, and manufacturing processes. Efforts to reduce waste, energy consumption, and carbon footprint will drive the future development of mechanical chain technology.
These advancements will enable mechanical chains to meet the evolving needs of various industries, including automation, robotics, automotive, aerospace, and more. The future of mechanical chain technology holds promise for improved performance, efficiency, and sustainability, contributing to the advancement of industrial systems and processes.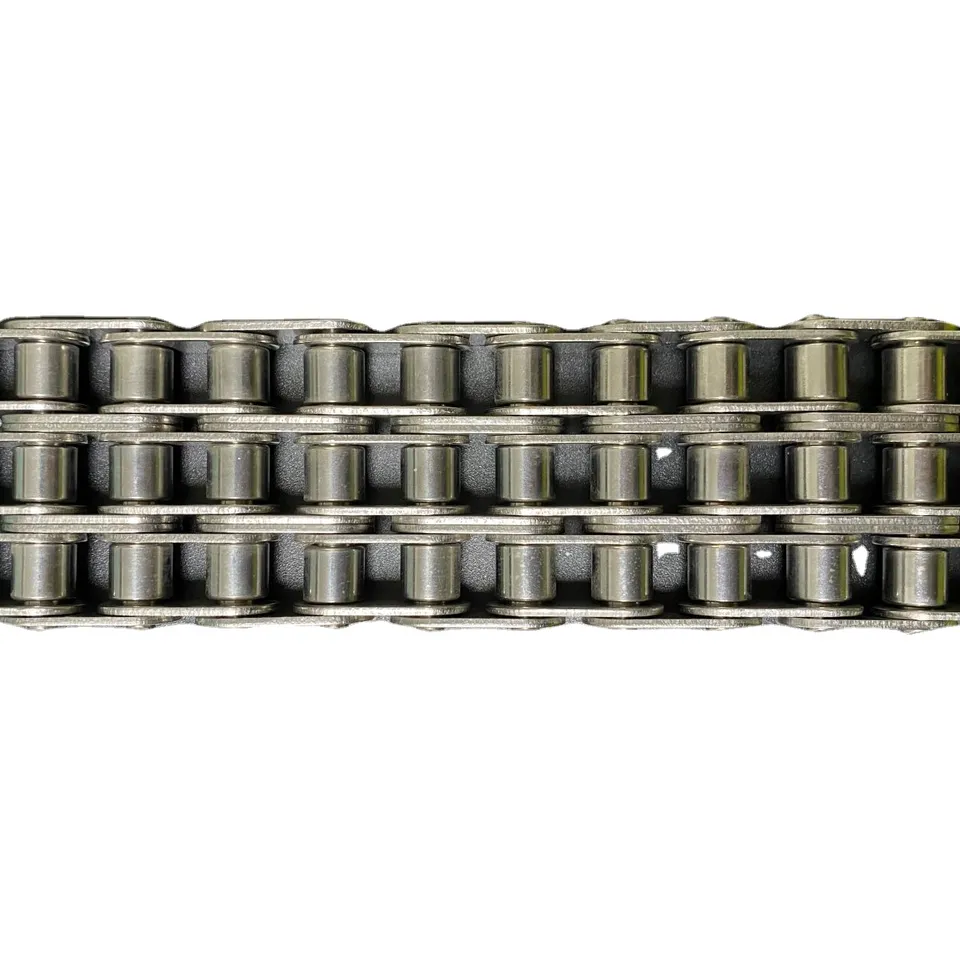 Can a mechanical chain be used in high-temperature environments?
Yes, mechanical chains can be used in high-temperature environments depending on the type of chain and the specific operating conditions. However, it is important to consider certain factors and take appropriate measures to ensure the chain's performance and longevity. Here are some detailed considerations:
Chain Material: The choice of chain material is crucial when dealing with high temperatures. Chains made from heat-resistant alloys or materials such as stainless steel or nickel-plated steel are commonly used in high-temperature applications.
Lubrication: Proper lubrication is essential for reducing friction, protecting against wear, and maintaining the chain's performance in high-temperature environments. Special high-temperature lubricants that can withstand the operating conditions should be used.
Heat Dissipation: Heat generated during operation should be effectively dissipated to prevent excessive chain temperature. Adequate ventilation or cooling systems can help in dissipating heat and maintaining the chain's temperature within acceptable limits.
Chain Design and Components: The design of the chain and its components should consider the thermal expansion and contraction that occurs at high temperatures. It is important to choose materials and construction methods that can accommodate these changes without compromising the chain's integrity.
Insulation and Protection: In some cases, insulation or protective measures may be required to shield the chain from direct exposure to high temperatures or to prevent the transfer of heat to other sensitive components.
Regular Inspection and Maintenance: High-temperature applications can accelerate wear and degradation of the chain. Regular inspection and maintenance, including checking for signs of wear, lubrication replenishment, and component replacement, are essential to ensure safe and reliable operation.
It is important to consult with chain manufacturers or experts who specialize in high-temperature applications to select the appropriate chain type and configuration based on the specific temperature requirements and operating conditions of your application.
Note that the maximum temperature capability of a mechanical chain will depend on factors such as chain material, lubrication, design, and load conditions. Exceeding the recommended temperature limits can result in chain failure, accelerated wear, and reduced performance.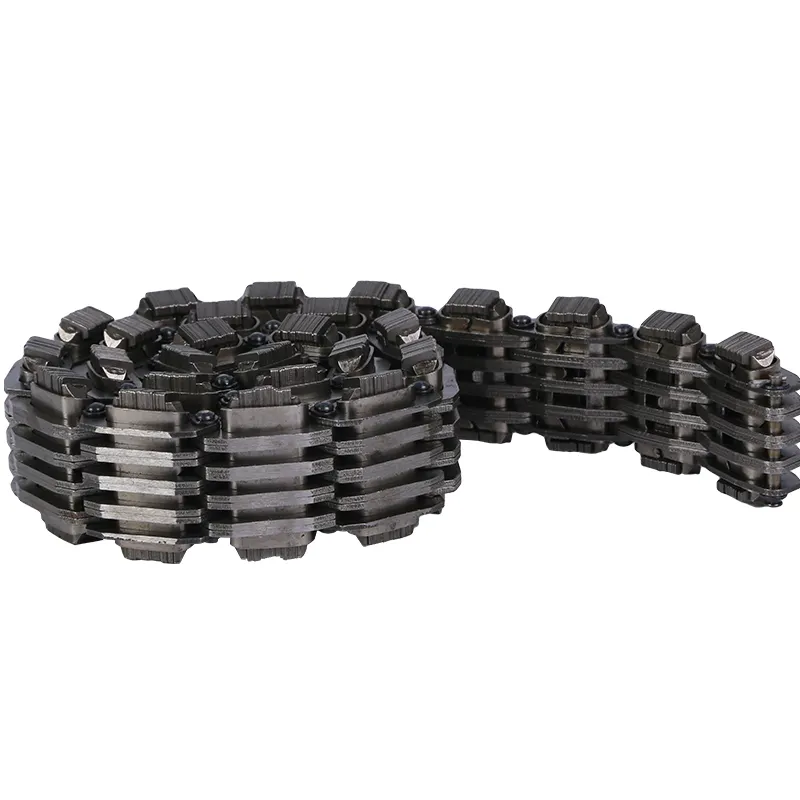 What is a mechanical chain and how does it work?
A mechanical chain is a device used for power transmission and motion control in various mechanical systems. It consists of a series of interconnected links that form a flexible and continuous loop. Here is a detailed explanation:
A mechanical chain typically consists of two primary components: the chain links and the sprockets. The chain links are connected together in a sequential arrangement to form the chain's length. Each link has specific features such as pins, bushings, rollers, and plates that enable smooth motion and power transmission.
The sprockets, on the other hand, are toothed wheels with evenly spaced teeth that correspond to the gaps between the chain links. The chain wraps around the sprockets, engaging the teeth, and forms a meshing mechanism. The sprockets are usually mounted on shafts and are responsible for transferring power from one shaft to another.
When a mechanical chain is installed in a system, it works based on the principle of interlocking between the chain links and the teeth of the sprockets. The chain links fit precisely into the gaps between the sprocket teeth, creating a positive engagement. As one sprocket rotates, it drives the chain, which in turn drives the connected sprocket(s) and any attached components or machinery.
The motion of the chain is typically rotational, but it can also be linear in some applications. As the chain moves along the sprockets, the individual chain links undergo various motions, including sliding, rolling, and pivoting, to ensure smooth movement and efficient power transmission.
The mechanical chain's design and construction may vary depending on the specific application and requirements. Different types of chains, such as roller chains, silent chains, or leaf chains, are available to accommodate various load capacities, operating conditions, and environmental factors.
The advantages of a mechanical chain include high load-carrying capacity, reliable power transmission, simplicity, versatility, and cost-effectiveness. It is commonly used in a wide range of applications, including machinery, automotive systems, industrial equipment, agricultural machinery, and more.
Proper lubrication and periodic maintenance are crucial for ensuring the smooth operation and longevity of a mechanical chain. Regular inspection, lubricant replenishment, and tension adjustment, if necessary, are necessary to maintain optimal performance and minimize wear.
In summary, a mechanical chain is a flexible loop of interconnected links that transmits power and motion in mechanical systems. It works by meshing with toothed sprockets, allowing for smooth and efficient power transmission between rotating shafts or other components in a wide range of applications.



editor by CX 2023-10-10