Product Description
 
Excavator Track Link Chains
 
Product Description
| | |
| --- | --- |
| Product: | Track Links /Track Shoe |
| Material: | 40MnB |
| Production Process: | Casting/Forging |
| Surface Hardness: | HRC50-60; depth : 4-10mm |
| Color: | Black, Yellow or Customized  |
| Compatible Machine:  | Excavator/Bulldozer  |
| Certification: | ISO9001 |
| Deliver time:  | 7-15 days after contrast established  |
| Offer customized Service : | Yes |
Product Parameters
Due to the oil lubricating action, the oil track link has a longer working life than traditional one. And through our professional heat treatment, quenching and tempering, our track link could resist abrasion and impact well.
Suitable Model
Main Dimensions of Installation
A
B
C
F
G
J
M
N
S
D355A-5
260.5
87.3
76.2
234.95
184.15
28
156
83
320
D275-5
260.5
86.4
76.2
234.95
184.15
28
166
96.7
291
D155A-1/2
228.6
71.4
76.2
219.8
169
24.5
138
78
290
PC400-6/7
228.6
71.4
76.2
184
144
24.5
129
70
252
D8H
228.6
71.4
76.2
201.1
169.3
23.8
138
79
294
D7G
215.9
64
76.2
184.2
146.2
20.5
125.5
69.5
252
CAT300/SK330
215.9
69
76
190
140
22.8
124
68
247
D6C/D6D
202.8
58
76.2
171.4
133.3
19.5
121.5
69.1
230
The models above are just for reference, we can't list all models here. We can supply more products as your requirements. Please feel free to send us your inquiry.
Main Feature
Through quench-tempering processes to ensure excellent mechanical properties, high strength and superior wear resistance to bending and breakage.
Advanced automatic machining center, ensure the accuracy of assembly dimensions. 
Automatic welding robot makes sure goods have steady and good welding quality.
We can also produce any requested parts according to your blue print or samples.
Company Profile
Establised in 2007, CZPT always insist on quality first, service first, continuously introduce new equipment, improve products quanlity and increase production capacity.
Among them, forged bucket teeth, as 1 of the main products of CZPT Forging, can match most brands on the market, and the R&D department is also committed to developing new bucket teeth to adapt to different brands of excavators, such as Caterpillar, Komatsu, Volvo, and mini excavators, etc.
Packaging & Shipping
FAQ
1. You are a trader or a manufacture?
We are an industry and trade integration business, our factory located in HangZhou ,and our sales department is in City centre of HangZhou.
2. How can I be sure the part will fit my excavator?
Give us correct model number/machine serial number/ any numbers on the parts itself. Or measure the parts give us dimension or drawing.
3. How about the payment terms?
We usually accept T/T or L/C. other terms also could be negotiated.
4. What is your minimum order?
It depends on what you are buying. Normally, we don't have MOQ request.
5. What is your delivery time?
If don't stock in factory : 20 days . If there are any parts in stock , our delivery time is only 0-7 days.
6. What about Quality Control?
We have a perfect QC system for the perfect products. A team who will detect the product quality and specification piece carefully, monitoring every production process until packing is complete, to ensure product safety into container.
7. Can offer the sample ?
For forged bucket teeth we can offer free sample, but the clients need bear the freight. 
 
| | |
| --- | --- |
| Certification: | ISO 9001:2000 |
| Surface Treatment: | Spray-Paint |
| Manufacturing Process: | Forging |
| Material: | 40mnb |
| Hardness: | HRC50-60; Depth : 4-10mm |
| Process: | Casting/Forging |
Samples:

US$ 0/Piece

1 Piece(Min.Order)

|
Request Sample
Customization:

Available

|

Customized Request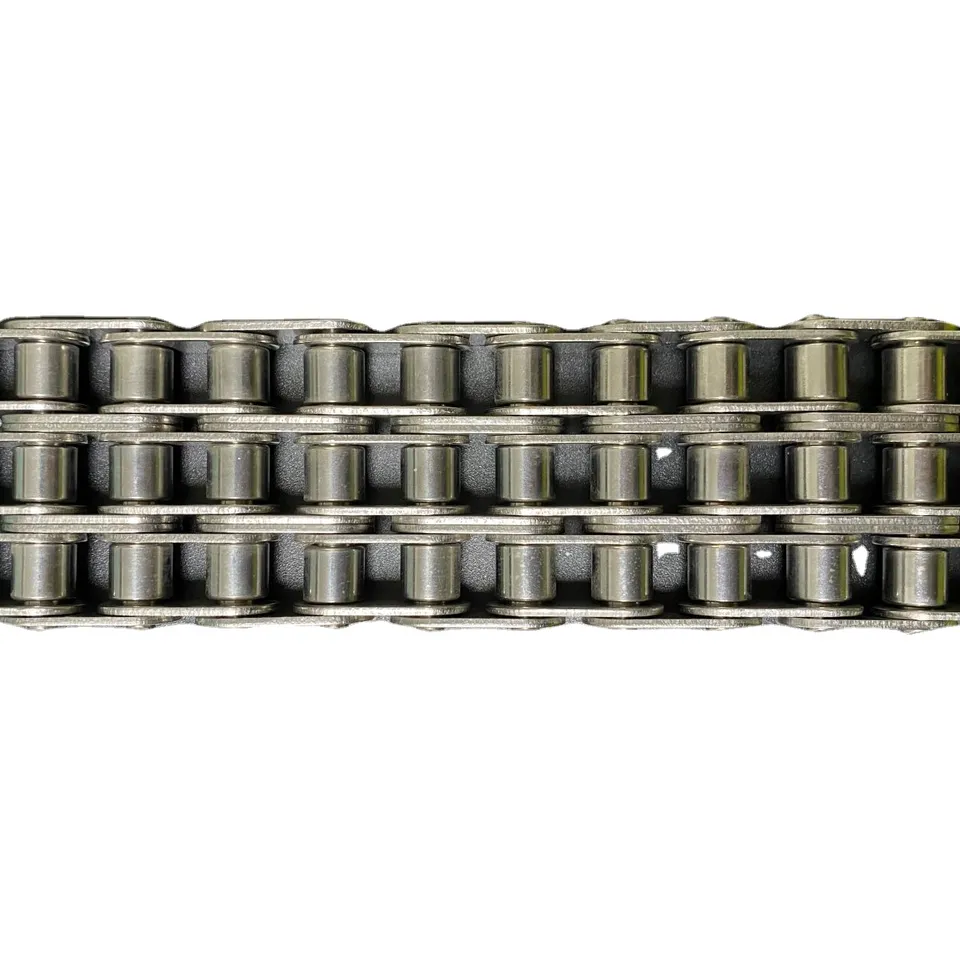 What are the future trends and advancements in mechanical chain technology?
The field of mechanical chain technology is continuously evolving, driven by the need for improved performance, efficiency, and durability. Here are some future trends and advancements to look out for:
Advanced Materials: The development of new materials with enhanced properties, such as higher strength, improved wear resistance, and superior corrosion resistance, will contribute to the advancement of mechanical chains. Materials like advanced alloys, composite materials, and coatings will be explored to meet the evolving demands of different industries.
Smart and Connected Chains: The integration of sensors and smart technologies within mechanical chains will enable real-time monitoring of chain performance, condition, and health. This data can be used for predictive maintenance, optimizing chain operation, and improving overall system efficiency.
Improved Lubrication Systems: Innovations in lubrication systems will focus on reducing friction, enhancing lubricant distribution, and extending the lubrication intervals. Self-lubricating chains or advanced lubrication techniques, such as micro-lubrication or dry lubrication, may become more prevalent, reducing the need for frequent lubrication maintenance.
Enhanced Design and Manufacturing Techniques: Advances in design software, simulation tools, and manufacturing processes will enable the development of more efficient and lightweight chain designs. Techniques like additive manufacturing (3D printing) may be employed to create complex and customized chain components.
Improved Wear and Fatigue Resistance: Research will focus on developing surface treatments, coatings, and heat treatments to enhance the wear and fatigue resistance of mechanical chains. This will result in longer service life and improved reliability, particularly in demanding applications.
Environmental Sustainability: As industries strive for more sustainable practices, there will be a greater emphasis on developing eco-friendly chain materials, lubricants, and manufacturing processes. Efforts to reduce waste, energy consumption, and carbon footprint will drive the future development of mechanical chain technology.
These advancements will enable mechanical chains to meet the evolving needs of various industries, including automation, robotics, automotive, aerospace, and more. The future of mechanical chain technology holds promise for improved performance, efficiency, and sustainability, contributing to the advancement of industrial systems and processes.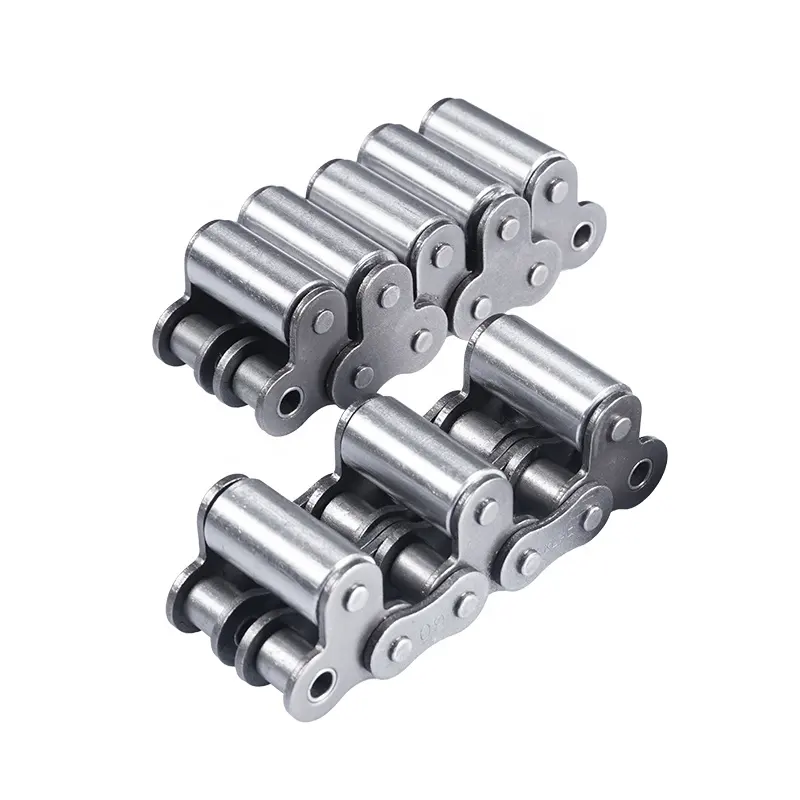 What are the common causes of mechanical chain failures?
Mechanical chain failures can occur due to various factors, and understanding the common causes can help prevent them and ensure reliable operation. Here are some detailed explanations of the common causes of mechanical chain failures:
Inadequate Lubrication: Insufficient or improper lubrication is one of the leading causes of chain failures. Insufficient lubrication can lead to increased friction, wear, and heat generation, causing accelerated chain elongation, increased power losses, and ultimately, chain failure. Proper and regular lubrication with the recommended lubricant helps reduce friction, prevent wear, and extend the chain's lifespan.
Overloading: Subjecting the chain to excessive loads beyond its rated capacity can lead to premature failure. Overloading causes increased stress on the chain's components, leading to accelerated wear, elongation, and eventual breakage. It is crucial to ensure that the mechanical chain is appropriately sized and rated for the intended load to prevent overloading and subsequent failures.
Poor Installation: Incorrect installation practices can compromise the performance and longevity of a mechanical chain. Improper tensioning, misalignment of sprockets, incorrect installation of connecting links, or inadequate clearances can lead to increased wear, excessive stress, and chain misalignment. Following proper installation procedures and manufacturer guidelines is essential to ensure the chain operates correctly and efficiently.
Inadequate Maintenance: Neglecting regular maintenance tasks such as cleaning, inspection, and lubrication can contribute to chain failures. Dirt, debris, and contaminants can accumulate on the chain, leading to increased wear and reduced performance. Regular maintenance, including cleaning, lubrication, and periodic inspection, helps identify and address potential issues before they result in chain failure.
Environmental Factors: Harsh environmental conditions such as high temperatures, exposure to chemicals, excessive moisture, or abrasive particles can accelerate chain wear and corrosion, leading to failures. It is essential to select chains with appropriate material composition and protective coatings to withstand the specific environmental conditions of the application.
Chain Misalignment: Improper alignment of sprockets can cause the chain to run off-track, resulting in increased wear, noise, and potential failure. Correct alignment ensures proper engagement between the chain and sprockets, distributing the load evenly and minimizing stress on the chain's components.
Fatigue and Wear: Continuous operation and cyclic loading can cause fatigue and wear on the chain's components over time. Fatigue failures typically occur due to repeated stress cycles, resulting in crack propagation and ultimate failure. Wear can be caused by abrasive particles, improper lubrication, or inadequate maintenance. Regular inspection and replacement of worn-out or damaged chain components are necessary to prevent sudden failures.
By addressing these common causes and implementing proper maintenance, lubrication, installation, and operating practices, the risk of mechanical chain failures can be significantly reduced, ensuring smooth and reliable operation of the chain system.



editor by CX 2023-08-22